This page could use a medic.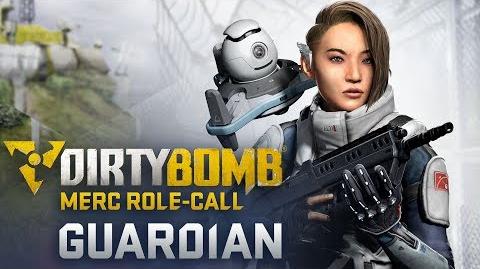 Guardian is the 22nd merc in Dirty Bomb, and was released October 10th, 2017, alongside the Guardian Update.
Merc Overview
Edit
Guardian is a ranged medic Armed with a defensive drone, reviving pulse glove and an assault rifle, this South Korean mercenary is equal parts protector and fighter. Guardian is able to revive multiple friendly while using her Sky Shield drone to automatically destroying incoming projectiles.
A Korean combat medic stationed near a CDA Lab in South Korea always on alert, checking her back and the backs of her team.
Abilities
Edit
Sky Shield (Anti-air Guard)
Edit
A devices on Guardian's back that once thrown, deploys as a hovering drone, destroying enemy projectiles automatically; this does not include bullets. The drone must have line-of-sight to destroy incoming projectiles. The Sky Shield takes 1s to deploy and last for 10s, covering a 400 unit radius from the center of the device. The Sky Shield has 90 HP and can be deployed every 20s.
While in the Sky Shield Aimee's Snitch & Vassili's Heart Beat Sensor can still detect friendly players. Thunder's Stun Grenade is also unaffected from the Sky Shield.
Bionic Pulse
Edit
A ranged AOE revive ability that can revive multiple friendlies from a short distance. Simply pressing the revive button will restore 30HP to one targeted friendly player. Full charging the Bionic Pulse for 1.5s can restore up-to 100HP to every player inside of it's 250 unit radius, only players with direct line-of-sight will be revived (this means full body). Bionic Pulse has a short cool-down of 0.133s, similar to pulling out defibs on other Medics.
Bionic Pulse can not deal damage to enemy players like Defibs found on other Mercenaries.
Incoming Detection System (IDS)
Edit
The Incoming Detection System, or IDS for short, acts similar to the Guardian Angel Augment but without the damage reduction. Guardian is given a audio warning of incoming air support abilities and the location they will fall on.
Primaries
Edit
Secondaries
Edit
Loadouts
Edit
These are generated loadout cards. You can hover over the augments to view stats and click on the weapons to learn more about each weapon. You can also learn how loadout cards get their name here.
Tips & Tricks
Edit
Countering
Edit
References
Edit
Ad blocker interference detected!
Wikia is a free-to-use site that makes money from advertising. We have a modified experience for viewers using ad blockers

Wikia is not accessible if you've made further modifications. Remove the custom ad blocker rule(s) and the page will load as expected.