Trinkets are small collectibles that hang on key-chains for your primary guns. They are collected by completing in-game events. Trinkets were first added in the December, 2015 update. Trinkets are collected and players may uses lower tier trinkets even if they reach higher tier trinkets in events. Trinkets do not provide a buff and only exists as visual eye-candy. It is unknown at this time if trinkets will be trade-able.
When Dirty Bomb was still in the concept and Alpha stage players had the option to purchase backer rewards for kickstarting the game early. These rewards included special, limited edition Loadout Cards, early access and trinkets. These trinket levels included:
Contributor
Elite
Legendary
VIP
Trinket Hunt Winter 2015
Edit
The first trinket event was the Holiday Trinket Hunt, which took place from December 22nd, 2015 to January 6th, 2016. Users had two weeks and two days to play 3, 15 or 60 hours in game to earn respective tier of trinkets. These tiers included:
Lump 'o Coal (3 hrs)
Olde Flashlight (+12 hrs; 15 total hrs)
Warm Snowman (+45 hrs; 60 total hrs)
What the Dickens?
Edit
In the January 15th, 2015 "What the Dickens?" update, three Limited Edition Merc Trinkets were added to the Dirty Bomb store. Each trinket cost a total of $4.99 USD and could only be purchased with real-life currency. The trinkets included:
Mine Sweeper

Proxy adorably recalls the misery of the 19th century working class

Arty Marley

Arty is a genuine throwback to Scrooge's ghostly business partner

Angel of Ire

Sparks is really not happy to see you. She's just not.
Pre-season Ranked
Edit
The Pre-Season trinket event was the second trinket event added to Dirty Bomb in late 2015 / early 2016. The event would encourage players to play competitive and earn ranks. Depending on current rank the player holds (Bronze, Silver, Gold, Cobalt & Elite) a respective trinket would be awarded at the end of the 2015 Pre-Season. Similar events are planned for each subsequent season.
Season 1 Ranked
Edit
Season 1 ranked trinkets are rewarded to players that participate in rank during the season 1 period.
Rogue en Vogue
Edit
Rogue en Vogue (ReV) trinkets will be implemented during the Rogue en Vogue Update. ReV trinkets are unlocked by earning and spending Decryption Cycles. The Rev trinkets come in three tiers, these include:
Tier 1: Spamtrap
Tier 2: Antivirus
Tier 3: Firewall.
Tier 4: Skull Splitter ($5 USD / £3.99)
Up Your Arsenal
Edit
A follow-up the the Rogue en Vogue and Unlock and Load update players had the opportunity to get a free 'Coalsplitter' trinket during May 26th, 2016 - May 31, 2016.
Totally Awesome Chicken
Edit
The Totally Awesome Chicken trinket was released with The Classy Art Hole Update on July 7th, 2016. It was to celebrate the update to the Market map, which received a graphical pass and added the "Totally Awesome Chicken" market located in the center of the Market map. The trinket could be purchased from the store for $4.99 USD and came with the "Chicken Flair", a chicken icon which shows up in your kill feed.
On July 12th, 2016 it was announced that the developers of Dirty Bomb, Splash Damage, was acquired by Radius Maxima, who were until 2015 primarily in the chicken business. The trinket seems to coincide with this deal.
More Totally Awesome Chicken Media
Graffiti Bite
Edit
The Graffiti Bite trinket was released with The Classy Art Hole Update on July 7th, 2016. It was available to all users that logged-in from July 7th, 2016 to July 11th, 2016 and lets user take home a part of the Gallery map.
Trinket Hunt Winter 2016
Edit
During the "Dickensday: Winter's Meme Event" players had the chance to collect a total of 4 holiday "Meme" trinkets, or trinkets inspired by internet memes. Three of the trinckets could be unlocked using "Humbugs" or limited-time currency. The fourth trinket was unlocked when you unlocked the other three.
Ice Coal'd

Merc-favorite Coaly returns, in a decidedly frigid state. What froze the anthropomorphized anthracite? Dickens knows...

Penny Frogging

An unlikely hero leapt from the ashes of seismic 2016, spreading chill vibes and cheer. Now he's in a waistcoat.

Illuminatree

In a world where privacy is an antiquity, remind yourself of your own stark, naked form, illuminated against the headlights of hidden power.

Dapper Doge

This gormless mutt bursts forth in fleurescent comic sans gimmickry with a yuletide howl when you inspect it. Kills you make with the Dapper Doge equipped are also highlighted in the obituaries for all players.
Season 2 Ranked
Edit
The Season 2 Ranked trinket is a limited edition trinket earned during the second season of Rank, which runs March 1st, 2017 to June 1st, 2017. In order to earn the Season 2 Ranked trinket Players must play at minimum 10 Rank matches to place in a tier. Depending on current rank the player holds in Rank (Bronze, Silver, Gold, Cobalt & Elite) a respective trinket would be awarded at the end of the second season. Players can only earn one Ranked trinket, but will reflect the highest level they achieved in ranked, even if they drop below that tier at the end of season.
Season 3 Ranked
Edit
Same as the Season 2 trinkets, they were given out on 12th September, 2017
Battle Hardened Trinket
Edit
With Season 3 you were able to buy the "Battle Hardened" trinket for 1500 Ranked Points. It has a special animation and a kill feed icon.
Season 4 Ranked
Edit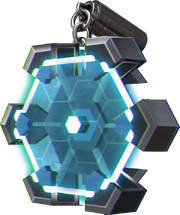 Unreleased Trinkets
Edit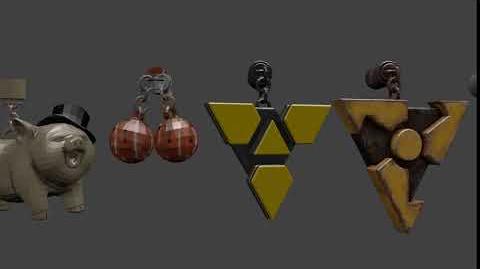 These trinkets are in the game files and are not used in any way.
These trinkets are:
Golden Pig
Jackal
Danglies
DB Glyph
CDA Icon